CLORHEXIDIN GLUCONAT 0,12% SAGOPHA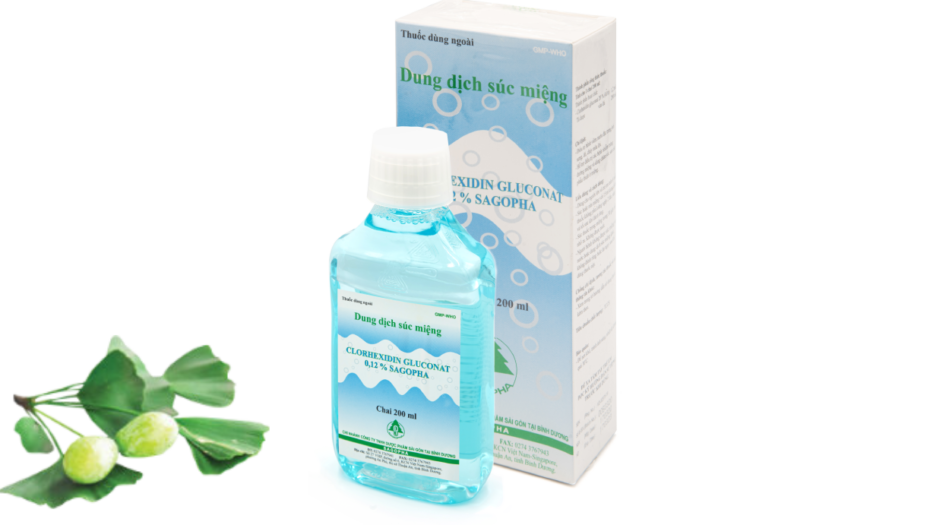 GENERAL INFORMATION
DOSAGE FORM:

Antiseptic

PACKAGING:

100 ml a bottle with box
200 ml a bottle with box
*** Bottle by PET plastic

STORAGE CONDITION:

Dry place, protect the light, temperature not exceed 30 °C

SHELF-LIFE:

36 months

SPECIFICATION:

Manufacturer's specification
ACTIVE INGREDIENT:
Each bottle 100 mL contain:

Chlohexidine gluconate 20%

0,6 mL
Product information is for reference only. Please see detailed drug information in the drug leaflet attached to the product.
INDICATIONS:
Treatment of gingivitis inflammed by swelling, redness, and bleeding gums

Assists in relieving symptom of oral infections and post surgical antiseptic mouthwash
CONTRAINDICATIONS:
Do not be used by persons who are known to be hypersensitive to Chlorhexidine gluconate or other formula ingredients.

Do not allow Chlorhexidine to come into contact with the brain, meninges, sensitive tissues and middle ear.However, its exposure to the middle ear may lead to deafness.


Do not use for children 6 months and under
USAGE INSTRUCTIONS AND DOSE:
6 years of age and older (adult).

Rinse mouth with 15 ml of undiluted solution twice a day, morning and evening after brushing.

Swish the medicine in your mouth for 30 seconds and then spit it out. Do not swallow.

Do not rinse your mouth by water or other mouthwash solution, do not brush your teeth or eating after taking this medicine

WARNINGS AND CAUTIONS:
The mouthwash solution is for oral use only, should not be swallowed, the solution should be spit out after rinsing or rinsing the mouth.
Patients should brush their teeth immediately before taking the medication but not with water or other mouthwashes; do not brush teeth, do not eat or drink immediately after taking the medicine
Not suitable for long-term treatment, as it causes an imbalance in the normal microflora of the oral cavity, along with the risk of spreading bacteria or fungi (Candida). If symptoms persist for more than 5 days and/or fever is associated, the course of antibiotic use and treatment in general should be re-evaluated.
Discontinue treatment in case of ear swelling.
Do not let the medicine come into direct contact with your eyes or nose. If solution gets into eyes, rinse thoroughly with water
Do not put the medicine in the ear canal.
Ethanol composition 96%: 9.79 g (100 ml bottle), 19.58 g (200 ml bottle).
ADVERSE DRUG REACTIONS:
Chlorhexidine can cause a rare but serious allergic reaction that can be life-threatening. Get medical help right away if you experience any signs of an allergic reaction such as hives, severe skin rash, wheezing, difficulty breathing, cold sweats, dizziness, swelling of the face, lips, tongue, or throat.
Call your doctor right away if you have the following symptoms:
White spots or lesions inside the mouth, or on the lips, or mouth ulcers.
+ Swollen salivary glands
Common side effects include:
+ Sore mouth
+ Dyeing teeth
+ Dry mouth
Abnormal taste or discomfort in the mouth
+ Decreased taste
WARNINGS FOR THE USE OF DRUGS DURING PREGNANCY AND BREASTFEEDING:
According to the FDA, chlorhexidine is classified as B. No adverse reactions to the drug solution in pregnant women have been reported. Use with caution, use only on the advice of a doctor or dentist.
Use in lactation: Chlorhexidine may be excreted in breast milk but is of no clinical significance. No adverse reactions to the solution in lactating women have been reported. Use with caution, only use with the advice of a doctor or dentist
DRUG INTERACTIONS AND INCOMPATIBILITIES:
Do not eat, drink, brush your teeth, rinse with water or use other mouthwash solution immediately after taking the medicine.
Avoid concurrent use with regular soap
Avoid concurrent or consecutive use with other antiseptics due to possible interactions (antagonism, inactivation) especially with anionic derivatives
OVERDOSE AND TREATMENT:
A drug overdose will only occur if a large amount of the gargle solution is swallowed. Overdose symptoms may include nausea, an upset stomach, or symptoms that appear to be drunk.
Call your doctor or go to the nearest medical center for timely treatment.
Actively monitor for timely handling