SAGOLAIR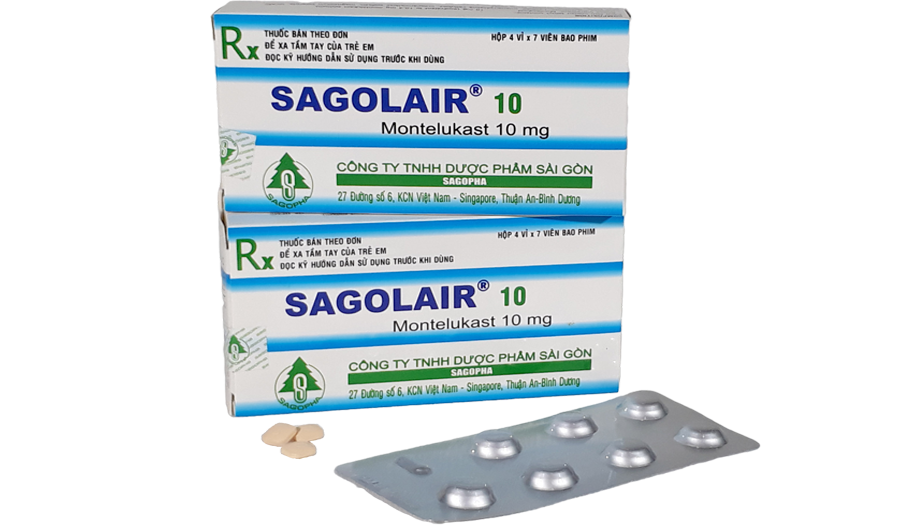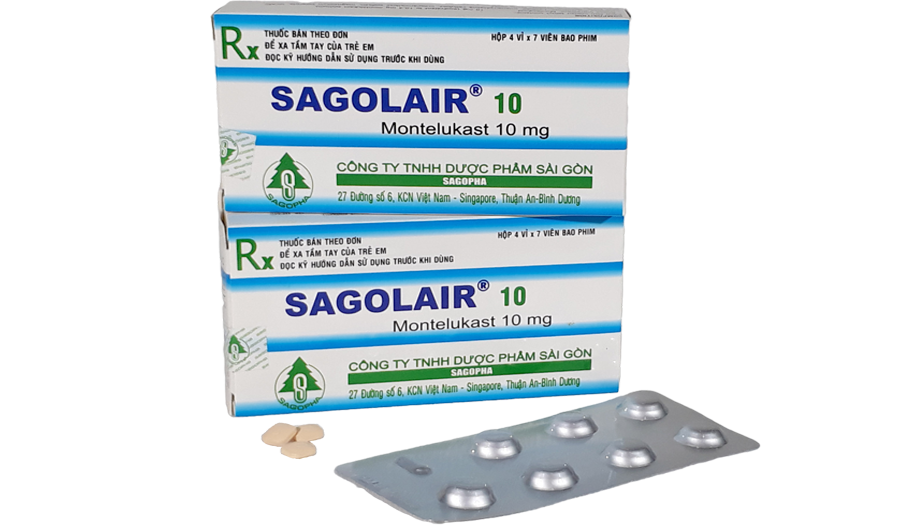 GENERAL INFORMATION
DOSAGE FORM:

Film coated tablet

PACKAGING:

Box of 4 blisters x 7 tablets
Totally, 30 tablets a bottle

STORAGE CONDITION:

Dry place, protect the light, temperature not exceed 30 °C

SHELF-LIFE:

36 months

SPECIFICATION:

Manufacturer's specification
ACTIVE INGREDIENT:
Montelukast (as Montelukast sodium)

10 mg
Product information is for reference only. Please see detailed drug information in the drug leaflet attached to the product.
INDICATIONS:
15 years of age and olders:
+ Symptomatic treatment of asthma for 15 years of age and olders.
+ Assists in relieving symptom of allergy rhinitis and perennial allergic rhinitis, of aspirin-sensitive asthmatics and the prevention of bronchospasm.
USAGE INSTRUCTIONS AND DOSE:
15 years of age and older: Take 1 tablet of 10mg ONCE daily
CONTRAINDICATIONS:
Hypersensitivity to any of the ingredients of the drug. Children under 15 years old.
WARNINGS AND CAUTIONS:
The efficacy of oral montelukast in the treatment of acute asthma attacks has not been established. Therefore, oral forms of montelukast should not be used to treat acute asthma attacks. Patients should be advised to use the appropriate treatment available. Inhaled corticosteroids may need to be tapered off gradually with medical supervision, but montelukast should not be abruptly substituted for oral or inhaled corticosteroids. Reducing the dose of systemic corticosteroids in people taking other anti-asthmatics, including leukotriene receptor antagonists, has been associated, in rare cases, with the following: eosinophilia, rash, shortness of breath, Cardiac and/or neurological disease, sometimes diagnosed as Churg-Strauss syndrome, is a systemic eosinophilic vasculitis. Although a causal relationship with leukotriene receptor antagonists has not been established, caution and close clinical monitoring should be exercised when reducing the dose of systemic corticosteroids in patients receiving montelukast. Pregnancy: Montelukast has not been studied in pregnant women. Use montelukast during pregnancy only when clearly needed. Lactation: The excretion of montelukast in breast milk is unknown, so caution should be exercised when the drug is administered to the mother during lactation. There is no evidence that Montelukast affects the ability to drive and use machines, so caution should be exercised when taking the drug.
ADVERSE DRUG REACTIONS:
Generally, montelukast is well tolerated. Adverse effects are usually mild and usually do not require discontinuation of the drug. The overall incidence of adverse events with montelukast was comparable to that in the placebo group. There are additional undesirable effects when putting the drug on the market: Bacterial and parasitic diseases: upper respiratory tract tablets; hematological disorders; increased tendency to bleeding; Immune system disorders: hypersensitivity reactions including anaphylaxis, very rarely hepatic eosinophilic infiltration; psychosis; agitation includes aggressive or antagonistic actions, anxiety, depression, disorientation, abnormal dreams, hallucinations, insomnia, agitation, restlessness, sleepwalking, thoughts and behaviors micro suicide; Neurological disorders: Dizziness, somnolence, paresthesia (abnormal sensation)/hypoesthesia, very rarely convulsions; heart disorders: palpitations; respiratory, thoracic and mediastinal disorders; nosebleed; gastrointestinal disorders: diarrhea, loss of appetite, nausea, vomiting; hepatobiliary disorders: increased ALT and AST, very rarely hepatitis (including cholestatic hepatitis, hepatocellular, multicomponent liver damage); skin and subcutaneous tissue disorders: angioedema, bruising, erythema nodosum, pruritus, rash, urticaria; musculoskeletal and musculoskeletal disorders: arthralgia, myalgia including cramps; Systemic disorders and administration site conditions: asthenia/fatigue, edema, fever. Inform your doctor about any unwanted effects you may experience while using the drug.
WARNINGS FOR THE USE OF DRUGS DURING PREGNANCY AND BREASTFEEDING:
Pregnancy:

montelukast has not been studied in pregnant women. Use montelukast during pregnancy only when clearly needed.

Lactation:

The excretion of montelukast in breast milk is unknown, so caution should be exercised when the drug is administered to the mother during lactation.
DRUG INTERACTIONS AND INCOMPATIBILITIES:
Montelukast can be used with other commonly used drugs for the prevention and chronic treatment of asthma and for the treatment of allergic rhinitis. At therapeutic doses montelukast had no significant effect on the pharmacokinetics of the following drugs: Theophylline, prednisone, prednisolone, oral contraceptives (ethinylestrdiol/norethindrone 35/1), terfenadine, digoxin and warfarin. The area under the curve (AUC) of montelukast was reduced by approximately 40% in humans co-administered with phenobarbital. No dosage adjustment of Montelukast is required. In vitro studies have shown that montelukast is an inhibitor of CYP2C8. However, montelukast does not alter the metabolism of these majorly metabolised drugs and enzymes.
OVERDOSE AND TREATMENT : 
Symptoms: The most common reactions to an overdose of montelukast include abdominal pain, drowsiness, thirst, headache, vomiting, and increased agitation. Management: There is no specific information on the treatment of overdose with montelukast. It is not known whether montelukast is available for peritoneal dialysis or hemodialysis. In case of overdose, immediately go to the nearest medical facility and follow the doctor's instructions.