Depural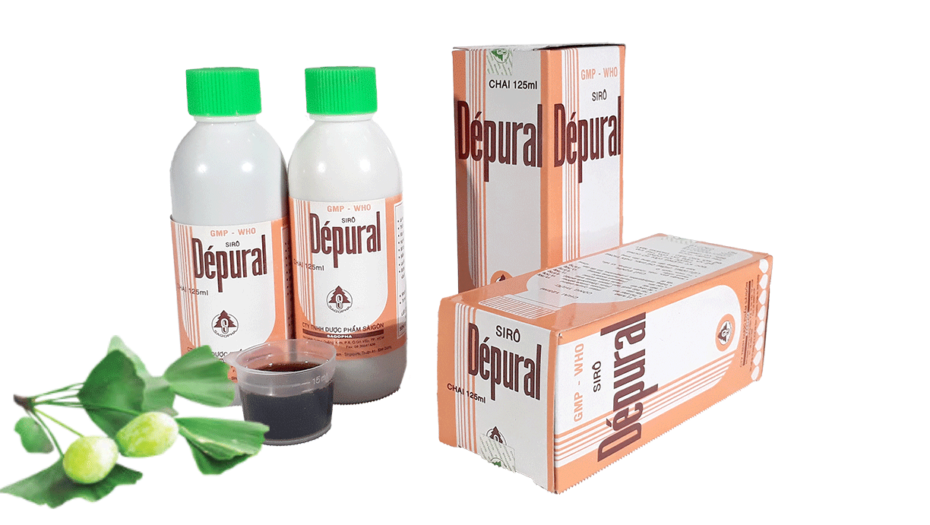 GENERAL INFORMATION
DOSAGE FORM:

Syrup

PACKAGING:

125 ml a bottle with box
200 ml a bottle with box

STORAGE CONDITION:

Dry place, protect the light, temperature not exceed 30 °C

SHELF-LIFE:

36 months

SPECIFICATION:

Manufacturer's specification
ACTIVE INGREDIENT:
Each 125 mL syrup contains herbal extract as:

Artichoke leaf

13,750 g

Smilax glabra root

13,750 g

Orthosiphon spiralis

6,875 g

Senna tora seed

13,750 g

Lactuca indica

6,875 g

Glinus oppositifolius

13,750 g

Passiflora foetida

6,875 g
Product information is for reference only. Please see detailed drug information in the drug leaflet attached to the product.
INDICATIONS:
Mild liver and bike duct detoxification. Relief of rashes, skin irritation, itchy and allergic reactions
CONTRAINDICATIONS:
Hypersensitive to any of the ingredients

Stomach ulcers, hyperglycemia

Do not take with tea

USAGE INSTRUCTIONS AND DOSE:
Measure the right dose by dosing cups in the box
Adult: Measure and administer 10ml THREE times a day before meals
Children: Measure and administer 5ml THREE times a day before meals
WARNINGS AND CAUTIONS:
People with bloody diarrhea
ADVERSE DRUG REACTIONS:
No known adverse effects.
Inform your doctor about unwanted effects when taking the drug.
WARNINGS FOR THE USE OF DRUGS DURING PREGNANCY AND BREASTFEEDING:
Use caution
DRUG INTERACTIONS AND INCOMPATIBILITIES:
Drugs that interact with tea, avoid using tea when taking drugs
OVERDOSE AND TREATMENT:
Symptoms of overdose are unknown.
If you experience unusual symptoms after taking an overdose, it is recommended that you go to a medical facility immediately and follow the instructions of your doctor