Rumafar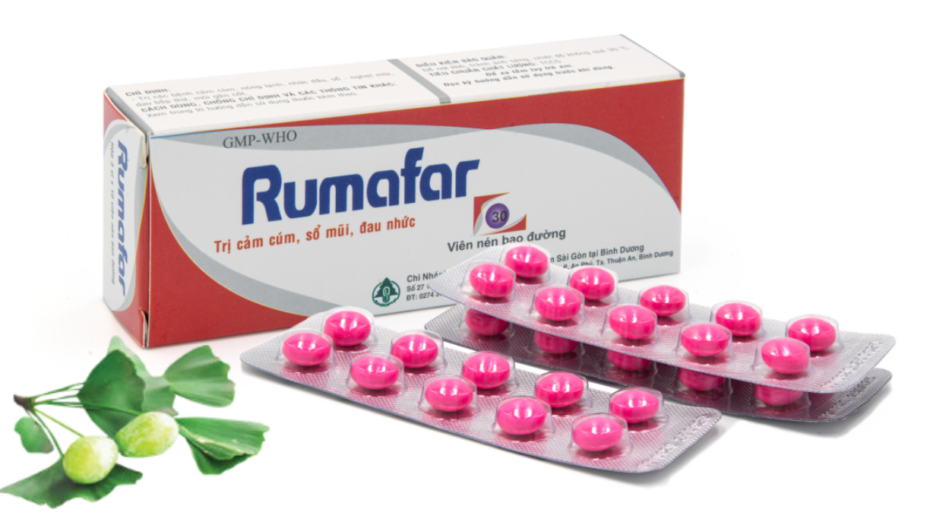 GENERAL INFORMATION
DOSAGE FORM:

Sugar-coated tablets

PACKAGING:

Box of 3 blisters; 10 tablets a blister

STORAGE CONDITIONS:

Dry place, protect the light, temperature not exceed 30 °C

SHELF-LIFE:

36 months

SPECIFICATION:

Manufacturer's specification
ACTIVE INGREDIENT:
Radix Plucheae pteropodae extract

150 mg

Rhizoma Ligustici watlichii extract

50mg

Dry powder of Fructus Viticis trifoliae

100 mg

Dry powder of Radix Angelicae dahuricae

50 mg

Dry powder of Rhizoma Kaempferiae galangae

30 mg

Dry powder of Alumen

10 mg
Product information is for reference only. Please see detailed drug information in the drug leaflet attached to the product.
INDICATIONS:
Assists in relieving cold and flu symptoms such as stuffy noses and muscles aches.
CONTRAINDICATIONS:
Hypersensitivity to any ingredients of this product.
Pregnant women
People with diabetes
Children under 5 years old
Children have medical history of seizure or febrile seizure.
USAGE INSTRUCTIONS AND DOSE:
Children:

5-9 years of age: take 1 tablet THREE times a day
10-15 years of age: take 1-2 tablet(s) THREE times a day

Adult:

Take 2 tablets Three to Four times a day
WARNINGS AND CAUTIONS:
There are no data on warnings and precautions for use.
ADVERSE DRUG REACTIONS:
No adverse drug reactions have been reported.
Inform your doctor and pharmacist of any adverse reactions encountered while using the drug.
WARNINGS FOR THE USE OF DRUGS DURING PREGNANCY AND BREASTFEEDING:
Pregnant women
DRUG INTERACTIONS AND INCOMPATIBILITIES:
Drug interactions: There have been no drug interaction studies, do not take this drug with other drugs.
Drug incompatibilities: Since there have been no studies on drug incompatibility, this drug should not be mixed with other drugs.
OVERDOSE AND TREATMENT:
Overdose: There are no data on overdose, do not exceed the indicated dose of the drug.
How to deal with drug overdose: Actively monitor for timely handling measures.