JUVENOL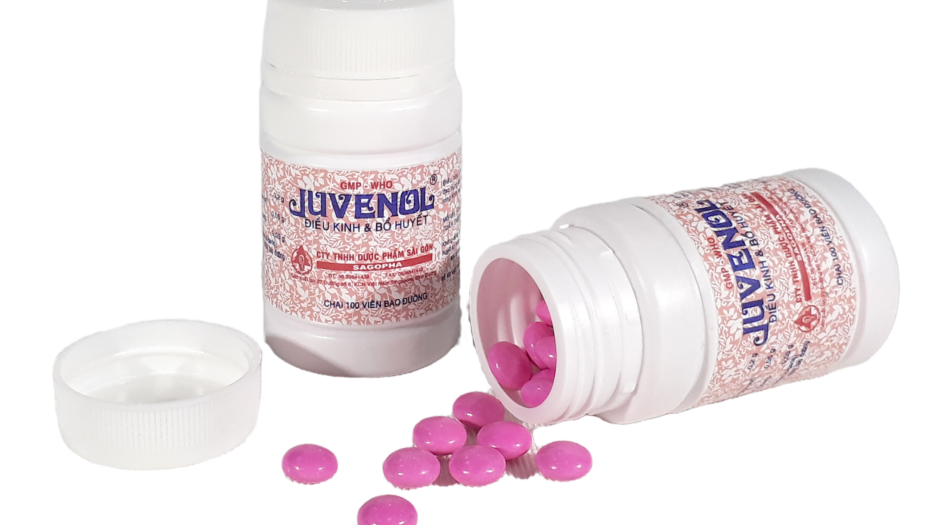 GENERAL INFORMATION
DOSAGE FORM:

Sugar-coated tablets

PACKAGING::

Bottle of 100 tablets

STORAGE CONDITION:

Dry place, protect the light, temperature not exceed 30 °C

SHELF-LIFE:

36 months

SPECIFICATION:

Manufacturer's specification
INGREDIENT
Herba Leonuri japonici extract (10:1)

 0,2 g

Rhizoma Cyperi extract (10:1)

 0,05 g

Herba Artemisiae vulgaris (10:1)

0,05 g
Product information is for reference only. Please see detailed drug information in the drug leaflet attached to the product.
INDICATIONS:
Assist to relieve PMS symptoms regulate periods and menorrhagia after childbirth.
USAGE INSTRUCTIONS AND DOSE:
Take 1-2 tablet(s) THREE a day
CONTRAINDICATIONS:
Not for use in diabetics,
low blood pressure, the younger sister has not had a period.
WARNINGS AND CAUTIONS:
Use with caution in pregnant and lactating women.
ADVERSE DRUG REACTIONS:
There are no known adverse effects.
Inform the doctor about the unwanted effects encountered when taking the drug
WARNINGS FOR THE USE OF DRUGS DURING PREGNANCY AND BREASTFEEDING:
Caution when used for pregnant women
and breastfeed.
DRUG INTERACTIONS AND INCOMPATIBILITIES:
No drug interactions yet are known
OVERDOSE AND TREATMENT:
There is no information on overdose and how
handling, when an overdose occurs, immediately go to the nearest medical facility and follow the doctor's instructions