LEOPARD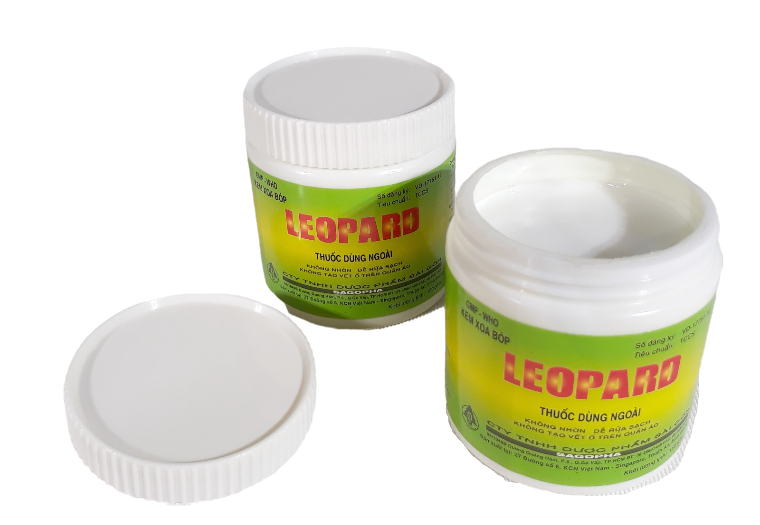 GENERAL INFORMATION
DOSAGE FORM:

Topical analgesic cream

PACKAGING:

Jar of 150 grams

STORAGE CONDITIONS:

Cover tightly, store in a dry place, the temperature does not exceed 30°C

SHELF-LIFE:

24 months

SPECIFICATION:

Manufacturer's specification
ACTIVE INGREDIENT:
Methyl salicylate

9 g

Menthol

2,25 g

Eucalyptol

1,5 g

Camphor

0,75 g
Product information is for reference only. Please see detailed drug information in the drug leaflet attached to the product.
INDICATIONS:
Relief pains (backache, muscle & joint pain) and strain and sprains from sport injury
Dilute bruises, bruises caused by impact
Deep Penetrating Pain Relief
CONTRAINDICATIONS:
Children under 2 years of age and people who are allergic or sensitive to any of the ingredients.
USAGE INSTRUCTIONS AND DOSE:
Apply a thin layer of medication to the affected area 1 to 4 times a day. Rub in gently and thoroughly.
After applying the medication, wash your hands unless you are using this medication to treat the hands. If treating the hands, wait at least 30 minutes after applying the medication to wash your hands.
WARNINGS AND CAUTIONS:
For external use only: do not drink
Do not apply the medicine to sores or open wounds
Avoid contact with eyes, mucous membranes, lips and mouth.
Caution for pregnant and lactating women.
Children under 5 years old: as directed by a doctor
ADVERSE DRUG REACTIONS:
If skin irritation occurs, or condition worsens, or pain persists for more than 7 days, or resolves but worsens within a few days; must stop using and follow the doctor's instructions.
Inform your doctor about any unwanted effects you may experience while using the drug.
WARNINGS FOR THE USE OF DRUGS DURING PREGNANCY AND BREASTFEEDING:
Use with caution in pregnant and lactating women.